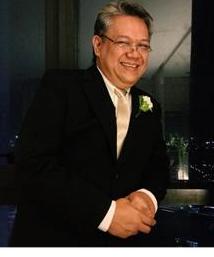 Victor Emmanuel Daelo Carmelo Nadera Jr. is a Professor 3 from the University of the Philippines Diliman on secondment.  As the Director IV of the Philippine High School for the Arts, his programs and projects include
Peryani Andres
(2013);
Makiling Inter-Cultural Arts Festival
(2014);
Arawng PHSA
(2014),
BayaningSining
(2014) with The Outstanding Students of the Philippines Inc.; the
Rice Awareness Project
(2014) with the United National Educational, Scientific, and Cultural Organization (UNESCO); the electrification of the National Arts Center in Mt. Makiling, Los Baños, and the establishment of a PHSA Campus in Bay, Laguna.
          Together with his wife Ellay, he founded the Foundation AWIT (Advancing Wellness, Instruction, and Talents) Inc. in 2008 after their four-year old son Awit, who had Global Developmental Delay, succumbed to pneumonia.
          After taking his B.S. and M.A. in Psychology from the University of Santo Tomas, he became an expressive arts therapist to cancer survivors, persons with AIDS (PWD), drug patients, "comfort women," streetkids, as well as victims of abuse, calamities, and grief.  During the 50th anniversary of the Philippine Society of Oncology, Inc. on 11 September 2014, he was honored with the Community Service Award for conducting poetry workshops in different cancer wards.  A member of the Commission on Higher Education's Technical Committee on Literature -- he also belongs to the UNESCO National Commission of the Philippines's Culture Committee and the Philippine Center for Gifted Education's Board of Directors.
Vim is recognized internationally when he became a South East Asia Write Awardee (2006) as well as nationally when he was chosen as one of The Outstanding Young Men (2003) and recipient of the GawadBalagtas (1998) from the KomisyonsaWikang Filipino. In Manila, he twice received the PatnubayngSining at Kalinangan--  for Theater (2014) and for Literature  (2010).
          As a poet, he became the youngest Poet of the Year (1985) who also won the National Centennial Commission Literary Prize for Epiko (1998); GantimpalangCollantes, TalaangGinto for Tula (1994  and 1992); National Book Award(1995); Carlos  Palanca Memorial Awards for Literature for Tula (1992); Carlos Bulosan  Award for Tula (1990). As an essayist, he bagged GantimpalangCollantes, TalaangGinto for Sanaysay (1996) and Cultural Center of the Philippines Grant for Sanaysay (1994). As a playwright, he was given the Cultural Center of the Philippines Grant for Playwriting (1992). As filmmaker, he got the MOWELFUND  Film  and Video Grant (1990). As a novelist, he received the Juan C. Laya Award for Best Novel in Filipino (2007) and the National Centennial Commission Literary Prize for the Nobela (1998). On 30 December 2015, during the 119th Rizal Day celebration, he was recognized by his hometown in Tayabas City for being one of the UnyonngmgaManunulatsaPilipinas' Gawad Pambansang Alagad ni Francisco Balagtas (2015).
          He collaborated with Elmer Borlongan who created letras y figuras using iPad in his poetry collection Rizalpabeto (The Center for Art, New Ventures, and Sustainable Development, 2012).  In hisKayumanggi (UST Publishing House, 2011), Vim's poems are turned into wearable art by Lorina Javier, photographed by Dominique James, set into music by FerEdilo, designed by  byMannetVillariba, and translated by Arvin Mangohig, Vic Nierva, and Francis Quina. The said publication sent him to Bangkok to accept the SEA Write Award from the King of Thailand in 2006. Digital artist and photographer PinggotZulueta and layout artist Albert Gamos helped him come up with his poetry anthology Asinta: Mga Tula at Tudla (UST Publishing House, 2002). In 2008, composer Paul Val Peña turned some of those poems into songs in the compact disc Katoto. His novel [H]ISTORYADOR[A] (UP Press, 2006) and epic Mujer Indigena (UP Press, 2000) placed second in the  Centennial Literary Prize in 1998. In 1994, two of his poetry books were nominated to the National Book Award but his15 Lamang  (De La Salle University Press, 1994) was luckier than his ALIT: Dalit GalitHalitMalitNgalitPalitSalit (Anvil Publishing House, 1994).
          His masteral thesis was published as Poetreat: The Use of Poetry as a Therapy in Mutual Support Groups of Cancer Survivors in Metro Manila(UST Publishing House, 2006). His dissertation was concluded with his poems about rice put together as songs by alternative music icon Joey Ayala and other respected artists like Dong Abay, Cynthia Alexander, OnieBadiang, Noel Cabangon, Lourd de Veyra and Radioactive Sago Project, Frank Englis, Junn Esteban, Maricris Joaquin, PopongLandero, Jun Latonio, Sheilbert O Manuel, Errol Marabiles, MalouMatute, PioPataganao, Ira Penalosa, Traicy Christi Tarongoy, Irma Tengasantos, Rene Tengasantos, and Mary Katherine Trangco-Cabral who joined forces in the CD called Palay, Bigas, Kanin.
          He, too, is a performer. As a performance artist, he represented the Philippines in art festivals in South Korea (2013), Germany (2013), Thailand (2012 and 2006), United States (2011), Japan (2010), Singapore (2008 and 2002), Taiwan (2007, 2006, and 2001), and Malaysia (2001 and 2000). As a lakandiwa, he is the V in the Balagtasan team – MTV --  with M or Mike Coroza and T or Teo Antonio who were invited here and abroad, particularly to the Filipino American Book Festival 1 and 2 in San Francisco Library and the Union City Hall, both in California, and to the Bowery Poetry Club in New York.